AIAG Compatible Plastic Pallets
AIAG pallets have 48″ × 45″ usable deck dimensions with 4-way pallet jack and forklift entry, smooth deck with 4-sided retaining lip, seat belt option and are nestable for efficient storage.
NF Pallet – Krypto-Lite™ Schaefer introduces the Krypto-Lite™ automotive pallet. The Krypto-Lite™ exhibits the strength, stiffness and deflection performance of the mid-duty 4845 pallets, but with 25% less weight. Weighing under 32 lbs, it can be lifted by a single worker.
Made from 100% recycled material.
Tested for superior stiffness and impact resistance.
AF Pallet The AF pallet is the original industry standard plastic pallet. Made of structural foam, it is rugged and durable.
Built to deliver years of unmatched performance
Will not splinter, rot or corrode
Structurally molded of high-density polyethylene
Lightweight, user-friendly design reduces pallet-related injuries.
This includes our complete line of reusable plastic pallets and top caps. Schaefer's solid-body pallets are superior in design and performance. Structurally molded of high-density polyethylene, these rugged, lightweight plastic pallets are easy to clean, won't splinter, rot or corrode and deliver years of unmatched performance. And when they do reach the end of their usefulness, they can be recycled, helping to preserve the environment. These pallets not only protect product, they protect employees because of their lightweight, user-friendly design. That means reduced pallet-related injuries, increased employee productivity and a better bottom line. When performance counts, count on the plastic pallets that save time, space and money year after year.
BulkStac™ Collapsible Bulk Containers
THE RIGHT CONTAINER FOR ANY JOB
Designed for efficiency and high performance, BulkStac™ offers advantages that really stack up. Erected heights of 33.8″ and 25.6″ provide maximum utilization of truck volume, lowering transportation cost. Bulkstac™ 34″ and 25″ containers collapse to a 12.75″ height, allowing them to be stacked 9 high with 234 containers per truck load. Compared to the industry standard of 208 containers per truckload, our customers cut freight costs by 12.5%. Our innovatively designed container base has a flat deck and provides more usable internal cube than comparable containers. BulkStac™ also provides stability with our periphery runner design, eliminating the need for a center foot which can damage product in the container below.
---
40 x 48 Heavy-Duty Nestable Pallet
This pallet is used in a wide variety of applications, ranging from downstream distribution in grocery to work-in-process in the textile industry. The large rectangular legs make this an excellent choice for most conveyor systems.
---
40 x 48 Rackstar II™ Pallet
ORBIS® offers the Rackstar II™ Pallet, with unsupported rack capacity of up to 3,000 pounds. It is the first pallet of its kind to offer unmatched racking capacity, superior durability and unprecedented product versatility.
---
40 x 48 One-Piece Stackable Pallet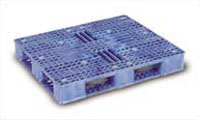 This double deck 40 x 48 pallet is ideal for double stacking, racking and conveyor use and can be used in a broad range of food, pharmaceutical, industrial and commercial applications.
---