LF Hopper Front Containers
One of the first plastic hopper front container families. The plastic version of our popular 14/7 hopper front steel container. These containers are ideal members of a small parts storage system which utilizes free-standing racks, trolleys or shelving. When you purchase an LF container, you are purchasing over 50 years of solutions which have been designed into products and accessories.
15 sizes, eight footprints, seven heights (2″ – 12″)
Available in yellow, green, red and blue
Interstackable with the 14/6 line of containers (except LF 141906)
Can be hung on louvered panel (except larger containers: LF 291812, LF 201812, LF 201212 and LF 201206)
Front label holders
Ergonomically designed, recessed grip handle on the back for easier manual handling
Double-wall construction for strength, made of polyethylene (except LF 090605, LF 140806 and LF 140808)
Compatible with SSI free-standing racks, trays, shelving and trolleys
KS Stack and Nest Containers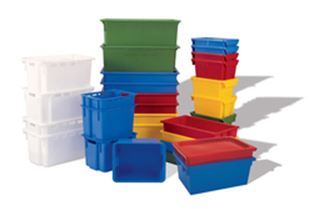 Schaefer 180° KS Stack and Nest Containers securely stack when full and efficiently nest when empty to minimize freight and storage costs. Designed for a wide variety of applications, Schaefer's KS Containers can be found globally in food processing, industrial, and distribution businesses. Many of the containers are compatible with pallet systems, including 48″ × 45″ and 48″ × 40″ pallets. Some of the containers have unique features for specific applications, and all have Schaefer quality in workmanship and design.
Available in Blue, Red, Yellow, and Green
Can withstand temperature extremes between -4F to 212F
Specifically designed for meat processing facilities
Made of FDA approved HDPE for superior performance
Sidewall slots provide overflow and airflow management
Smooth walls with generous corner radii create a strong and easy-to-clean container